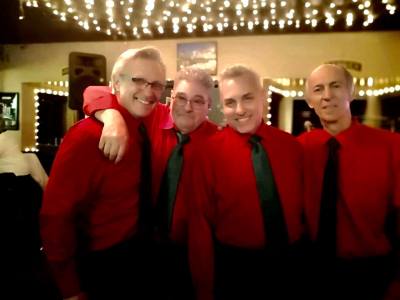 Four Man Trio

​

 is made up of musicians who have been part of the metropolitan Rock & Roll scene for over 40 years, performing in groups such as Cottonmouth, Desire, Twilight, The Echelons, The Infernos, Sound Investment, Ray-Band, Remembrance, Streetlight and Split Rock. When they decided to combine their vast experience, Four Man Trio was born. 
 
For the past thirteen years, Four Man Trio has performed at functions for the Passaic/Bergen Rotary Club's "Gift of Life" and the "Make-A-Wish Foundation", two programs which bring much needed medical and emotional support to sick children from all over the world. The band has lent support to the Bogota VFW Post in Bogota, NJ and for the Police Athletic League's "National Night Out Against Crime" summer concert series. The band currently makes appearances at several nightclubs in the northern New Jersey area. 
 
The history of Four Man Trio dates back to 2003, when drummer and singer Joey Rizzo and singer John Clemente decided to form a band with the thought in mind that the music must be familiar, fun to play and fun to hear, while avoiding getting stuck on a specific playlist. The sentiment is that there are "millions" of good popular Rock & Roll songs to be heard, not just a common list of standards available to every band. They decided to join forces with the like-minded talents of guitarist/vocalist Joe Cimo and bassist/vocalist Bob Roman. Combining their expertise, these four gentlemen were able recreate songs in their own style, always keeping them fresh, yet never straying from music lovers' recollections of many of these fine tunes. In 2015, when Bob decided to retire to Florida, capable and talented bass player and singer Tom LeClair effortlessly slipped into his spot. Four Man Trio never missed a beat! Let's meet the band members individually: 
 
                                        
Cliff Bernunzio (Bass, Vocals) – Cliff's love of music started when he was just 3 years-old. By the time Cliff was 10, he was buying the latest records and singing along with them. His first recording was a version of Ricky Nelson's "Lonesome Town" which he sang in a recording booth at the famed Palisades Amusement Park. Cliff sites Nelson and The Everly Brothers as his early inspirations to perform. In 1964, as a teenager, Cliff was bitten by the Beatle bug, so he took bass lessons and started a band with his friend Jay. As his bass playing prowess developed, Cliff eventually became part of several touring bands, garnering extensive club work up and down the Eastern seaboard and in Puerto Rico. One of those bands lead Cliff to California, as part of an ensemble called Captain Willie, working with Dallas Smith and singer/songwriter Barry Mann. Cliff's love of music and performing kept him on stage throughout the next two decades. As of the millennium, Cliff contributed his talents to Nemesys, a classic Rock trio, performing selected songs from the songbooks of The Beatles, The Ramones and Warren Zevon, among others. In 2018, Cliff was asked to become a permanent member of Four Man Trio in place of departing member Tom LeClair.

Joe Cimo (Guitar, Vocals) – Joe started playing with local bands in 1965, originally playing bass. One of these bands, Cottonmouth, had a local hit on the West coast with "Yellowstone" for Musicor Records in 1970, which is when Joe picked up the guitar. Joe became a member of Twilight in 1984, lending his impeccable guitar playing and a penchant for singing the blues in a traditional style. Joe played in Twilight for 18 years before life changes took other members of the band in a different direction. In 2003, Joe delivered his premium talents to help form Four Man Trio.  
 
John Clemente (Vocals, Percussion) – John started singing in a cappella groups in 1984, helping to form a non-performing group called The Fine-Tunes. In 1987, John helped form The Echelons, who, with producer Eddie Brian, had a local Christmas hit with "A Christmas Long Ago (Jingle, Jingle)". John did double duty during 1989 and 1990, also singing with The Infernos. After The Echelons disbanded in 1995, John teamed with songwriter/guitarist Luke Tirrell, singing original material on the coffee house circuit for about a year. In 1998, John joined the a cappella group Remembrance, staying with the group until 2001. During a brief run singing in Desire, a house band at a Roxbury hotel lounge, John met singer/drummer Joey Rizzo and they decided to form their own band, joining circuit veterans Bob Roman and Joe Cimo to form Four Man Trio.  
 
Joey Rizzo (Drums, Vocals) – Joey started playing the drums at age 12. As a teenager, Joey continued to hone his drumming skills while lending technical help on sound for the 70s classic rock band, Gabriel. With a desire to be out front as a premium vocalist, Joey helped form the band Streetlight in 1984, performing as their lead singer and sound consultant. He stayed with the band until 1998. Joey also played drums and sang backgrounds with Ray-Band, sang 1st tenor and lead in The Cameos, did fill-in work with The Infernos and Time Machine, and played drums in Desire, where he met singer John Clemente. In 2003, Joey and John helped form the nucleus of Four Man Trio. 
 
Their blend of collectors' corner group harmony, 60s garage, Motown, Blues and 70s Rock and Soul has sustained Four Man Trio on the Northern NJ club circuit for several years, with much success, entertaining discerning music lovers all over the Garden State.